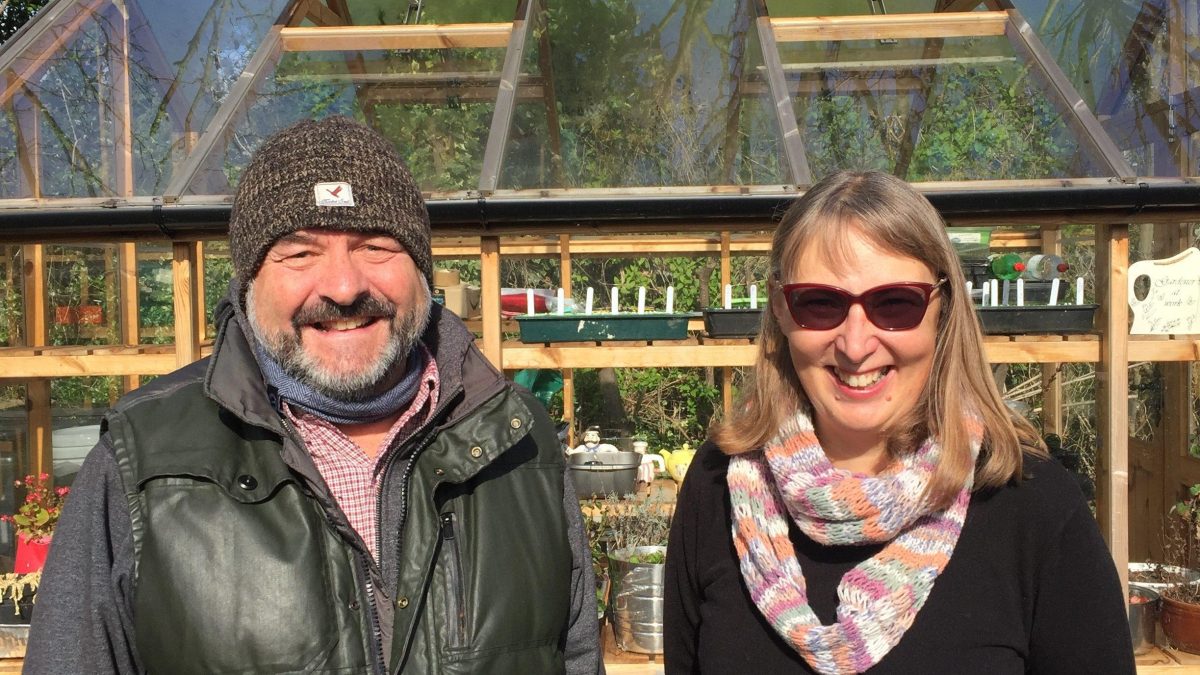 Waltham Forest Heroes of Horticulture: Karen Esson and Tony Lane
Tim Hewitt went to visit the community gardens Shangri–La that is Greenway Avenue and meet two of the committee members Tony Esson and Karen Lane (pronounced care un).
Greenway Avenue is a community garden and play space available to local residents charging a modest £12 a year or £20 for two years. It is part allotment, part wildlife haven, part herbal garden, part flower garden, part upcycling hub and all for the local community. It is also used as a venue for Forest School classes, with two nursery and one Reception class using the space.
Visit their website here:
greenwaycommunitygarden.weebly.com
or Facebook page
So tell us about how this garden came to be
In 2012 there was money available to host boroughs for the Olympics and with the help of Liza Sumpter, a council officer, we put in a successful bid to turn derelict tennis courts into a garden and children's play space. The local residents had a meeting and decided on what they wanted. Groundwork did the build and a final year student at Capel Manor did the design. We opened in late 2012. We have got a board of 10 trustees. Our aims are for greater cohesion, community engagement and well-being.
So have you found that you have achieved those goals?
Tony, " it's amazing how it has developed relations on the road".
Karen, "Yeah, we now know more than our immediate neighbours, even those at the bottom of the road!"
"Tony, " It gets a bit difficult just going to get a pint of milk from the shop now, you have to say hello to so many people!"
Karen, " I have met another Kairen (pronounced care un) through this garden who likes opera too and we now go together. It is also one of the things that young families moving into the road like as it helps them get to know their neighbours really quickly. It's a great way to meet people."
What are your favourite parts of your roles here?
Karen, " Gardening. I just love the opportunity to experiment, such as growing different veggies from seeds which we've shared or used to make food to share."
Tony, "Tinkering and problem solving."
Karen chips in that," every garden should have a Tony". He is very visibly the go-to guy for DIY projects, masterminding the newly built wildlife pond, knocking up a cunningly irrigated Thyme wall and no doubt lots of other crafty stuff.
And your least favourite?
They look at each other a bit shiftily and say, "the admin!". Sometimes the business of organising and running a community endeavour is a chore. Lots of people will come and enjoy a sunny planting day or a concert or BBQ but getting more people involved in helping with events and day to day business would be great. I get the sense that Karen just wants to garden. Tony just wants to tinker. But they have to do lots of other stuff as well, which is less enjoyable. More people helping the committee would be great.
What got you into your roles here?
Karen, " I used to grow apple and orange and plum pips as a child in Edinburgh. I just always enjoyed growing things and Mum helped me. One of my jobs as a child was cleaning the leaves of our rubber plant with a cloth."
Tony, "I haven't got much of a background in horticulture. I grew up in Australia, between the town and the bush. My dad was a motor mechanic and I guess I got my handyman skills from a background in engineering and industry."
Who is your horticultural hero?
Karen, "Miss Gertrude Jekyll. And Nick Bailey. He's fabulous!"
Tony, "Monty!"
What plans do you have for the space next?
Karen, "A successful food harvest. It was really nice to bring people together to share the food we had grown last year. We would like to pick one growing project that gets the community together."
Tony, "I wanna see the first frog in that pond. Or a toad. We have to get the chestnut guard rail up and establish the pond. I also want to make a hibernaculum."
What a word! Hibernaculum is a tent for winter quarters. I want one. And Tony is the man to make it, clearly!