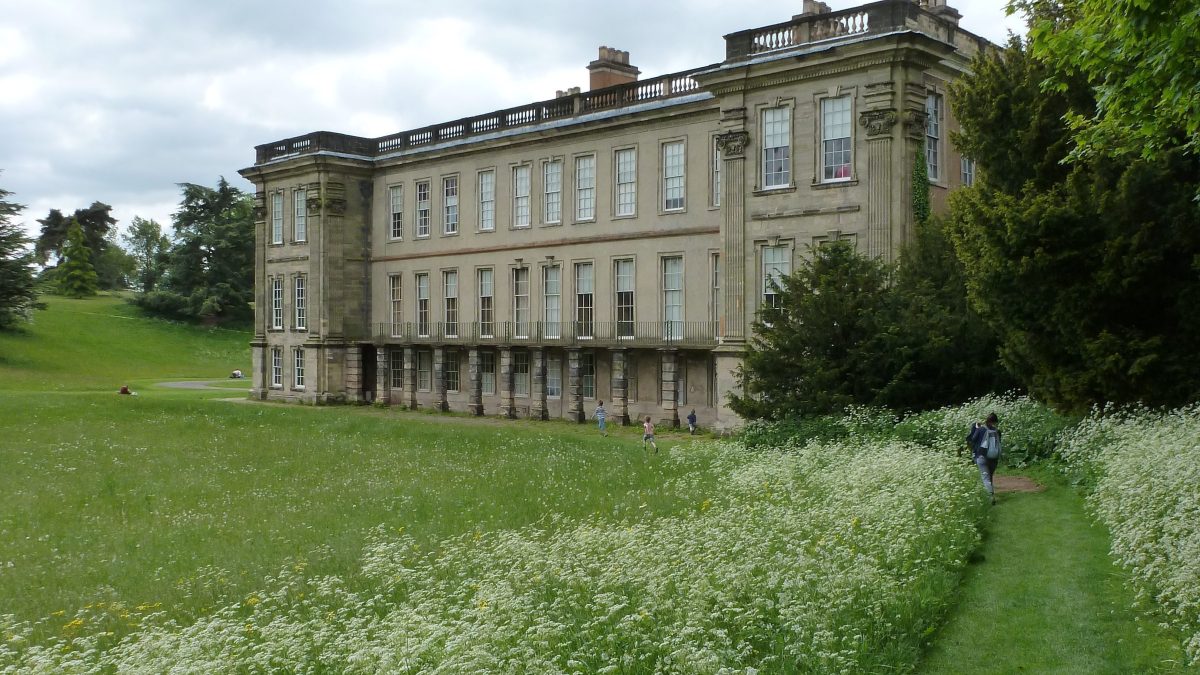 Calke Abbey
Days out gone by

Days I love my visits to a large stately garden. I am forever promising a trusted aunty or friend cake with lashings of jam and butter cream. If they provide the transport, I will provide enough coffee from the cafe to cause an arrhythmia.
There is no doubt that a visit to anywhere stately is an investment. Of time obviously but it's the money too. With paid entry, the requisite tea and cake (x2) before setting foot on the path to herbaceous splendor plus snaffled an overblown, overpriced plant from the nursery at the end, I will have (lemon) drizzled away nearly £40. The garden has to be a wise choice.
One of the best gardens I have visited (and continue to frequent) is Calke Abbey in Derbyshire. Originally it was the site of a medieval religious house that later fell foul to Henry VIII infamous dissolution of the monasteries. Calke was leased and several families passed through its doors. In 1622 Calke was sold to Henry Harpur and remained the Harpur family seat until 1985 when it was transferred to the care of the National Trust. By then the house was in serious decline with much of its interior unchanged since the 19th century. It truly was the un-stately home.
The house is preserved in graceful disarray and the lack of buttoned up corsetry spills out into the gardens continuing the ethos 'repair not restore'. Meadows abound, the gardener's bothy is in (preserved) serious disrepair and the Orangery is grandeur, fading in our time.
But the walled kitchen garden is one of the finest I have seen. There is a particularly high standard of husbandry displayed amongst the vegetable beds. The staking and crop protection use hazel coppiced from the wider pleasure grounds. Some of these hazels have been dated to 1700 and were believed to have formed a nuttery in an early orchard.
Today's orchard has moved. It is a fruity mix of apples, pears and plums that I confess to scrumping as they are within easy reach (but shhhh, don't tell). You are practically begged to take a seat in the deck chairs that are littered around. There are director's chairs too (no doubt a subtle and kind consideration for those that need a little more height in their seat to stand up again). The lawns are barely mown, so you can drift through grassy meadow and lie where you like. Here, you are very definitely allowed on the grass.
A glass house to make even a baronet green with envy is filled with crops in vintage terracotta pots. Heritage varieties of every kind of pepper you can think of sit alongside cucumber and tomato and produce is sold with an honesty box system in a shelter around the corner.
Cuttings of rare and unusual pelargonium wait in the wings for their chance to take centre stage in the auricula theatre. The theater is rare survival of display gardening from the 19th century and was designed to show of prize auricula primula in tiers, preserving the blooms for as long as possible. Today collections of snowdrops, auricula and pelargonium are displayed as the acts of winter, spring and summer are played out.
The Orangery sits shambolic, replete within a second, vast walled garden. Here swathes of nectaroscordum siculum nod under the trees and long corridors of an annual mix flower meadow lead you to the ice cream hut. Its been a while since coffee and cake so it would be churlish not to. The Bluebells ice cream is locally produced and top notch to boot.
It's a savvy decision to house the ice cream here as this is where the kids are encouraged to let loose. There are all sorts of outdoor games and enough room to gather serious momentum. Grassy meadow is flattened under foot, but no one seems to mind.
As you leave the (in)formal gardens you pass a compost area on a scale to make any gardener drool. Here you can also pick up ready-made posies of flowers cut from the gardens for a modest amount. To head back to the house there is a dark and chilly tunnel just wide enough for a wheelbarrow that leads into the wider estate.
The estate is home to red and fallow deer. They were originally allowed to roam free and they ate most the gardens! These beasts now roam their own deer park and one of the rare restoration projects here was to reinstate the woody shelter that originally hid the walled gardens from the house. This shelter and the tunnel meant that gardeners were neither seen nor heard at Calke in those days. Today they are celebrated and will happily chat about the plans for the garden.
The house comes into view along a shady lime tree walk under planted with vast, frothing drifts of cow parsley (anthriscus sylvestris). The stables are worth a look, but I don't linger very long. They contain nothing of calorific value or that can be planted in my garden so its back to the nursery (for originally stated overblown, overpriced plant) and then the tearooms for a second slice of cake (well we have covered a lot of ground).
Calke Abbey
Ticknall,
Derby,
Derbyshire
DE73 7JF
Due to Covid 19 restrictions are in place for visiting National Trust Properties. See here for the latest details